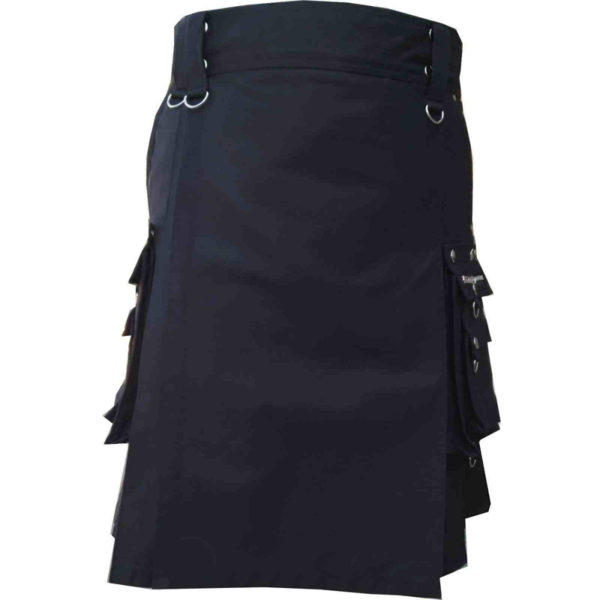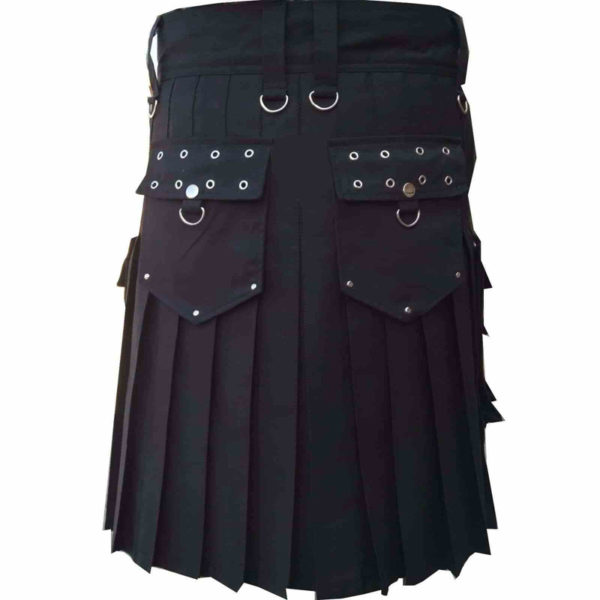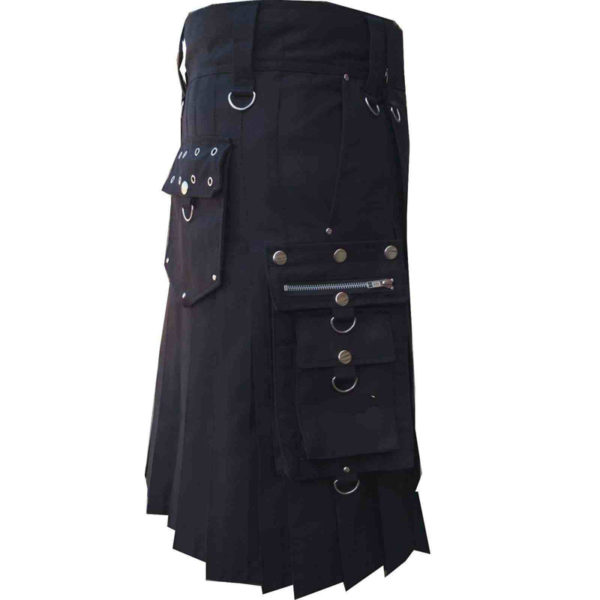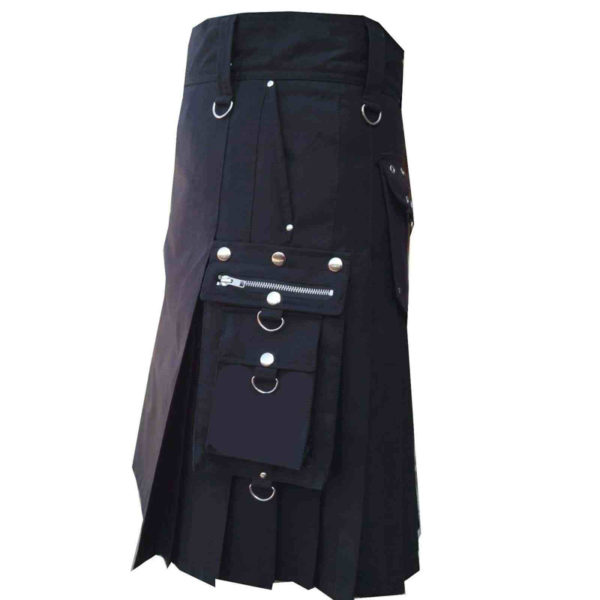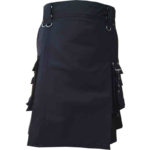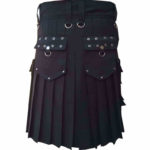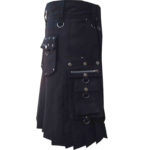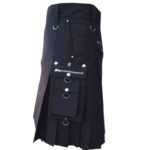 Gothic Kilt for Steampunk
$100.00
Description
Additional information
Reviews (2)
Size Guide
Description
This Black Utility Kilt is specially designed for Goth and Steampunks. Its all pleats are sewn for a full swing.Talking about its pockets, it has six Pockets; two trouser pockets, two flap pockets with antique metal buttons D-rings & Zip which also is remove able, two pockets on the back with eight eyelets and D-rings on it.
There are buttons and 4 internal studs for better fitting. This kilt is easy to maintain, affordable and durable.
Features
Stylish and Sporty Kilt
All pleats are sewn for a full swing
Two trouser pockets, two flap pockets with antique metal buttons D-rings & Zip
Two pockets on the back with eight eyelets and D-rings
Buttons and 4 internal studs for better fitting
Gothic Kilt for Steampunk Design
Now lets talk about the design of this Deluxe Utility kilt for you. I have explained each aspect of this kilt in great detail so that you can build a picture of this kilt in your mind.
Front
The front side has chrome hooks which are fitted on the belt holders which can be used to add chain set as per the requirement of the wearer. The front aprons falls perfectly straight and does not crumble while wearing it.
Pockets
There are total six pockets on this Kilt which makes it an ideal Utility Kilt. Two Flap pockets on either side with small pocket on each Flap pocket. There two Flap pockets on the back side of the Kilt. The Flap of the Pockets are decorated with Shiny Chrome buttons, chrome hooks and Zipper.
Pleats
Now lets talk about the pleats on this kilt. The pleats are deep sewn down which is approximately 2.5 inches depth; however, the dept of pleats are fully customizable as per the choice of our customer.
Additional information
| | |
| --- | --- |
| Colors | Black, Blue, Brown, Gray, Green, Khaki, Red, White |
Measuring guides for kilt  
If you are new to buy a kilt online and want to measure yourself for it, then read our step by step guide to get the best fit kilt for your better experience.  Why it's necessary to measure before buying!! Well, it's good to measure before rather buying the wrong size and returning the product for another size. Further, in jeans industry manufacturer has their standards to measure and a short or jeans pant doesn't reflect your actual waist to best fit because kilt size is larger than your pants size!! Don't annoy for the information you can get proof of it to measure yourself.  So, in 3-4 steps, we will guide you how you can measure your body for your 1st kilt. All you need is a pen, one page, and a measuring tape if you don't have assistant no problem you can measure yourself quickly.  We need your three sizes for kilt
1)      Your waist size
2)      Your hip size
3)      Your kilt length
4)      Fell measurement (optional)
1- Waist Size
Start with the 1st or waist size, put tape around your body at the point of your waist or belly button or where you are planning to fasten your kilt. Normally a kilt should be at the belly button, but it's totally up to you how you want to wear it. So measure the point with normal breath (our kilts has little losing for best fitting) and write on the page either in inches or cm to update in your order.  *Note: It will probably be 2 to 4 inches more than your pants size. It is common.  *TIP: BIG guys with large bellies may want to wear the kilt around the naval, as it gives a more flattering appearance.
 2- Hip Size
Moving further measure your hips at widest point, it's very easy to measure for that. Why it's necessary to give hips size?? It's an interesting answer, while we manufacture your kilt we must know either you have normal hips size or not!! Because if your hips cannot fit in your kilt that would be so embarrassing and uncomfortable to wear in public. Because we manufacture a made to order kilt so, we take care of each step to manufacture.
3- Length Size  
At 3rd step, you need to measure your kilt's length which means how long your kilt will hang while standing on your legs. People wear as per their choice, but a kilt should hang till your knee cap (but it's not a standard at all its totally up to your choice). But be sure that your starting point is from your waist point or where you plan to fasten your kilt. So it will be a length from your waist till your knee cap or what so ever you want. The standard length of kilt or drop length of the kilt is 24" in a male case and 20" in female case, but you are designing your kilt it's up to youJ.
4- Fell measurement  
Heading to end the kilt size guide the last point is your fell measurement. Don't know what is fell?? Well, Fell is measured from your point of waist till your hips (in the picture you can easily understand that) some people want that their kilt should stay with their body rather roomy or airy like fittings of pants at hips so if you will update your fell measurement you can fulfill this requirement as well. Most of the time a Fell measurement is not that necessary because most of the kilts are manufactured as per standard fell measurement which is 5-7 inches as per total length of the kilt.