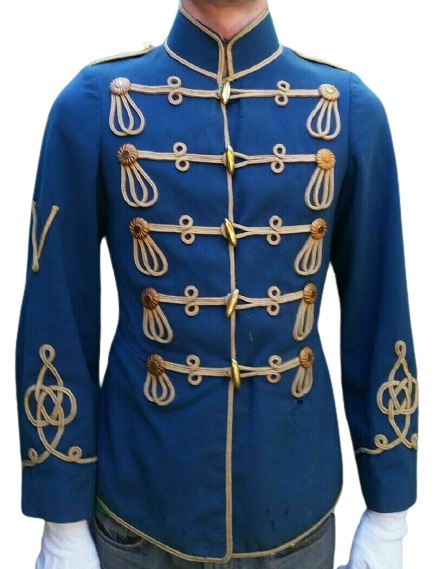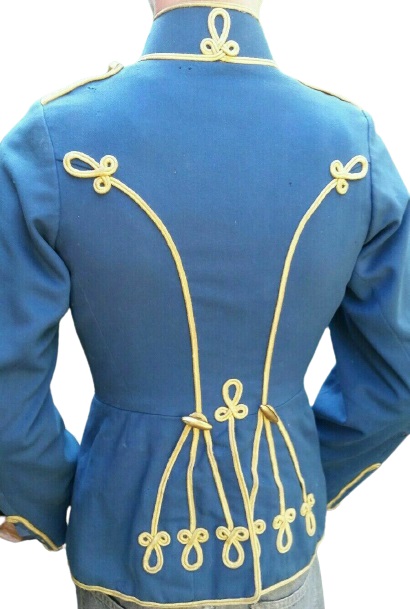 Imperial German Hussar Attila tunic uniform jacket
$350.00
Description
Imperial German Hussar Attila tunic uniform jacket
Pre-World War 1 Imperial German cavalry Hussar Attila uniform jacket. Very good-looking Bavarian hussar tunic it has nothing on the bottom of the sleeves and a couple of much smaller ones on the belly all can be seen in pictures. The uniform has something written on the top of the sleeve I can only believe it's the soldier's name or possibly unit/regiment. Despite the mothing on the sleeves it is a very good-looking piece and the possible name is neat as well. As for the size, I am 6′ 2″ and slender the uniform just about fits me; the sleeves are a little short and the whole thing is a bit tight.
Thanks for looking and be sure to check out my other items.
Stay safe and have a nice day!
Related Products
Light Purple Scottish Tweed Argyle Kilt Jacket With 5 Button Vest

Light Purple Scottish Tweed Argyle Kilt Jacket With 5 Button Vest

We make every order custom made so please put the note in order which sizes you need? Thank you
Light Purple Tweed Jacket and Waistcoat is beautifully made from 100% Pure New Wool.
This jacket and waistcoat are available in 2 different colours,
Double Button Fastening Argyle Cuffs Plaited Epaulettes.
2 Outside Pockets with 3 Button Scalloped Pocket Flaps Chest Pocket Button Hole on the Lapels.
2 Inside Pockets
Colour Matching Polyester Lining
Five Button Waistcoat Fastening High Neck Design
2 Welted Pockets Imitation Staghorn Buttons
Colour Matching Polyester Lining
Waistcoat Back Adjustment Buckle. More details in pictures
Custom Sizes are available upon request.
Discount offered for Bulk Purchases.

$

350.00