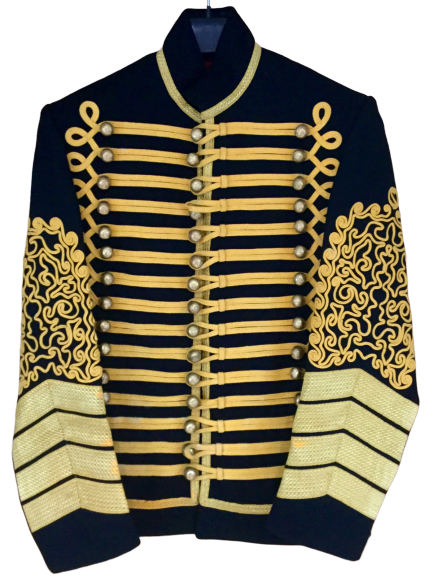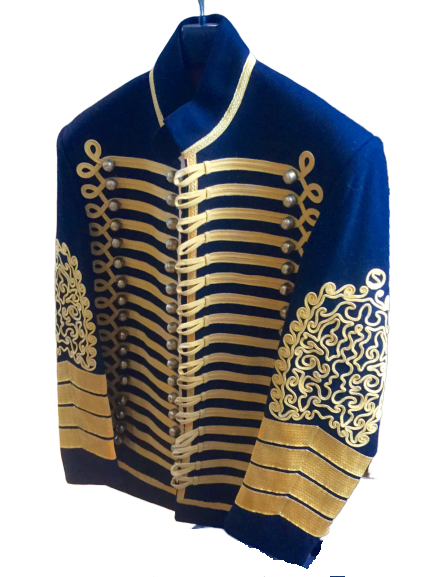 Jimi Hendrix Jacket, Military Tunic, Hussars Pelisse, Bespoke
$450.00
Description
Jimi Hendrix Jacket, Military Tunic, Hussars Pelisse, Bespoke
This item has been handmade from the finest 22oz Melton Cloth 100% English wool in black.
Trimmed with hand finished worsted Gold chest frogging and detailed design on the sleeve.
This Hussars jacket is finished with 15 rows of Gold chest frogging and 45 full ball alloy buttons.
Coloured high quality Silk linings which also includes wallet/phone pocket.
The fabrics and trim have all be handcrafted and supplied by Hainsworth apt to the Queen.
Can be worn buttoned up or open, looks simply stunning either way and there are endless styles in which this piece can be worn
This piece is perfect for any formal dress or military event, private parties/ functions, galas, balls, weddings etc.
Blue and Black Color Available
We will send this product in 5 to 6 weeks.
Related Products
Men's Military Officer Jacket Red And Black Cotton

Men's  Military Officer Jacket Red And Black Cotton

The vintage military-style jacket is believed to be part of an actual English military uniform. Navy blue with red collar, sleeves, waistband and accents. Gold-tone braided rope epaulets, heavily embellished across the chest with gold-tone ribbon and buttons that is matched at cuffs.

$

470.00