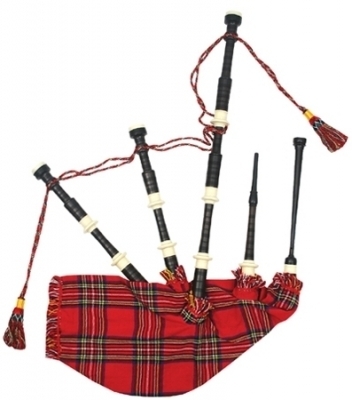 Description
Rosewood Bagpipe
Bagpipes are a class of musical instrument, aerophones, using enclosed reeds fed from a constant reservoir of air in the form of a bag. Though the Scottish Great Highland bagpipes have the greatest visibility in the English-speaking world, bagpipes have been played for centuries (and continue to be played) throughout large parts of Europe, Turkey, the Caucasus, around the Persian Gulf, Northern Africa, and North America. The term "bagpipe" is equally correct in the singular or plural, although in the English language, pipers most commonly talk of "the pipes", "a set of pipes" or "a stand of pipes".
Full size & Fully Functional Professional Bagpipe Royal Stewart Bagpipe Cover 2 cane chanter reeds 1 Synthetic drone reed set Though historians disagree on precisely when they emerged as a part of Celtic life, bagpipes have been played at least since the 14th century and have come to symbolize the rich history of the Scottish people. The Scottish Highland Rosewood Bagpipe Professional Set is the perfect solution for bagpipers for their professional needs. Made from genuine rosewood, the Scottish Highland Rosewood Bagpipe Professional Set has a sleek black finish. The set is ideal for Professional Bagpipers.
Material: Genuine Rosewood
Finish: Black
Cover: Red Stewart Tartan
Ring Caps, Ferrules Mounts: Alloy with Silver Finish
Mouth Piece: Plastic
Cords: Red and White
Style: Musical Instrument
Type: Professional
Synthetic Drone Reeds: 1 Set
Can Chanter Reeds: 2 Set
View our wide selection of the best quality. Order online today!
Related Products
LYRE HARP 8-STRING ROSEWOOD

LYRE HARP 8-STRING ROSEWOOD

The solid Lyre Harp Rosewood body lends itself to the soft gentle curves of this eight-string lyre. The eight metal strings provide a classical sound that is enhanced by the lacewood soundboard. When you are not playing, you can hang it up as a piece of art; it's that pretty. Tuning tool is included. Hold it upright on your lap or as you walk, and pluck both sides of the strings. Or lay it flat and pluck it. 10 inches wide by 17 inches long, 2.75 inches deep. There are a few suggestions for tuning.

An authentic tuning derived from Judaic worship music, where the instrument was used to accompany the singing of the Chazzan, also known as a Cantor. This style of tuning uses the Chazzanut mode.

Starting with the bass (largest strings) tune as follows: E F G# A B C D E (Ahava Raba mode)

In the early Middle Ages in Eastern Europe, the secularization of the Jewish worship music gave rise to Klezmer music. Jewish troubadours, known as klezmorim gave the music a place at weddings and other simkhes (joyful events). The Klezmer music eventually blended with Slavonic, Greek, Turkish, Gypsy, and even American jazz tempos and rhythms. For Klezmer music try the Misheberakh mode which is: E F# G A# B C# D E

Two alternative tunings that work well with singers comfortable sing in the Key of G are (again bass to treble): E F# G A B C D E (Natural minor) and D E F# G A B C D (E is tonic). Notice, in the second tuning, all the notes are the same but you're starting on D rather than E. Includes tuning tool.

$

350.00