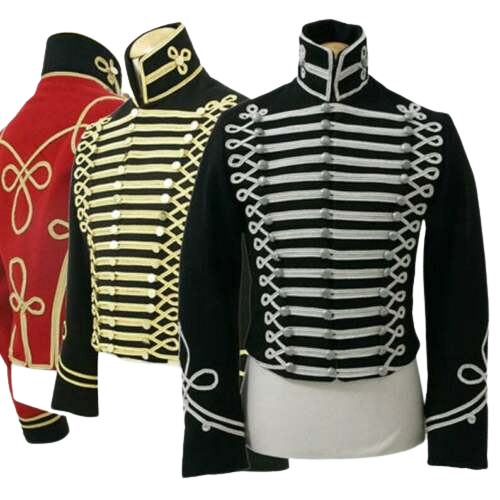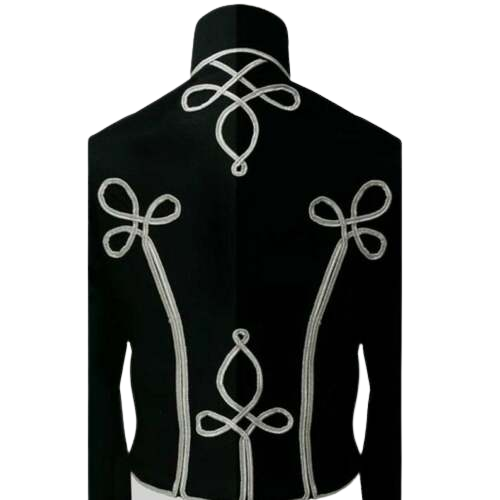 Hussars Pelisse (Plain) British war jacket civil war jacket
$350.00
Description
Hussars Pelisse (Plain) British war jacket civil war jacket
Features:
Hussars Pelisse (Plain)
Shown is a generic Pelise circa 1790 – 1815, these are collectors' quality garments made in military-grade wool with silver or golden lace your choice.
Any uniform of this type can be made for you (just send us the picture of the uniform you require) but they are to special order only and because they are hand made delivery is approximately
Mention braid color while confirming your order notes section.
choose your size in the drop-down menu
you can order a fully customized jacket as well
Contact me for further details. Our Size charts based on actual product. Your body sizes will be (chest and waist only) 4 inches less than these sizes. Mean to say if M size chest is 44 inches it means your body chest size will be 40″ and 4″ are loosing for movements of your body.
Related Products
Light Purple Scottish Tweed Argyle Kilt Jacket With 5 Button Vest

Light Purple Scottish Tweed Argyle Kilt Jacket With 5 Button Vest

We make every order custom made so please put the note in order which sizes you need? Thank you
Light Purple Tweed Jacket and Waistcoat is beautifully made from 100% Pure New Wool.
This jacket and waistcoat are available in 2 different colours,
Double Button Fastening Argyle Cuffs Plaited Epaulettes.
2 Outside Pockets with 3 Button Scalloped Pocket Flaps Chest Pocket Button Hole on the Lapels.
2 Inside Pockets
Colour Matching Polyester Lining
Five Button Waistcoat Fastening High Neck Design
2 Welted Pockets Imitation Staghorn Buttons
Colour Matching Polyester Lining
Waistcoat Back Adjustment Buckle. More details in pictures
Custom Sizes are available upon request.
Discount offered for Bulk Purchases.

$

350.00